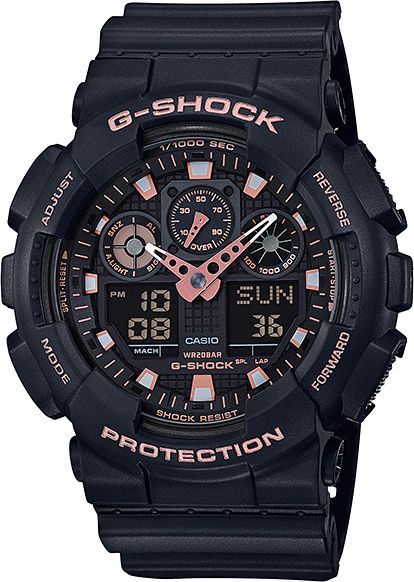 CASIO G-Shock Watch GA-100GBX-1A4
Brand: CASIO G-Shock Watch
Category: G-SHOCK GA SERIES
Product Code: GA-100GBX-1A4
Availability: In Stock, Dispatched In 1-2 Working Days
Authenticity: 100% Original, Authentic, Brand New
From G-SHOCK, the watch brand that is constantly setting new standards for timekeeping toughness, come new additions to the standard model lineup.
The popular DW-9052, big case GA-100, and combination AW-591 start out with basic G-SHOCK black, which is then accented with brilliant rose gold and gold accents. The new gold-accented designs are really attractive additions to the G-SHOCK lineup.
Features:
• Shock Resistant
• Magnetic Resistant
• 200m Water Resistant
• Resin Band
• Mineral Glass
• Battery life: 2 years
• Accuracy: ±15 seconds per month
• Amber LED light with Auto light switch, selectable illumination duration, afterglow
• World time (48 cities)
• Stopwatch function - 1/1000 sec. - 100 hour
• Countdown timer
• 5 daily alarms (with 1 snooze alarm)
• Hourly time signal
• Full auto-calendar (to year 2099)
• 12/24-hour format
• Analog: 2 hands (hour, minute (hand moves every 20 seconds))
Digital: Hour, minute, second, pm, month, date, day
Watch comes with 1 year warranty
IMPORTANT NOTICE:
(1) WE ARE INTERNATIONAL DEALER SPECIALIZING IN WATCHES.
(2) OUR WAREHOUSE ARE AVAILABLE IN CHINA (ASIA), UK (EU), AND US.
(3) SHIPPING WILL TAKE BETWEEN 3-5 DAYS
(4) ALL ITEM SHIP FROM OVERSEA (NON-MALAYSIA) WILL BE SUBJECT TO 60-DAYS MONEYBACK GUARANTEE.
(5) THIS ITEM IS SHIP FROM :- SELANGOR
(6) Please note, where applicable, selection are based on picture sequence no.
#CASIO #G-SHOCK #ORIGINAL #MALAYSIA-BASED
#shopaholics #shoppingaddict #currentlywearing #instastyle #fashionaddict #styleblogger #styleinspo #whatiwore #ootd #gooddeal